Summer's usually got me in three modes:
chooglin'
rosé-sippin'
tallboy riffin'
These ways of being heed no creed, genre or person — a country song can choogle, a heavy metal ballad can be paired with a pink drink, a pipa player can riff your pretty face to heck. No borders when it comes to takin' it easy or partying hard. Sometimes, when the heat aligns with the breeze, I manage to do all three at once.
But, to me, the riff is a sacred summer ritual; within it contains a vessel for debauchery, exploration and affirmation. And no band better exemplifies the sanctity and heresy of the riff better than Endless Boogie. Main guitar slanger Paul Major understands that the riff itself — and not just the ripping guitar solos played atop — is the lager of life.
There's not a bad place to start with the Boog — the studio recordings add some dynamic to the dirty blooze. But lately, all I can jam is The Gathered and Scattered: 4 LPs of basement jams buzzed from all-night ragers from the past 10 years, with little to no spit-shine. Matt Sweeney shreds some; Andrew W.K. shows up. Maybe scraps of these rehearsals eventually got revamped as songs, but mostly follow the same formula: someone introduces a riff, drums and bass kick in, a second guitar bends and slams a rowdy bar blues, Paul Major growls nonsense. It goes on for some time. You know, a jam.
After a long week of work, I grabbed a tallboy of something cheap and had the whole box set spinning in the living room on Friday night. Never once did I tire of Endless Boogie's relentless pursuit for rock and roll scuzz; like a dumb movie that's actually smart, there's a grubby genius to a riff that lasts forever. Some are headier than others, but mostly it's gut-level music that reaches down to your toes. In fact, my toddler literally raced upstairs to grab her green tutu and pink dancin' shoes. That's the power of Endless Boogie.
—Lars Gotrich
Bandcamp 6-Pack
A new sixer (almost) every week. Follow my collection on Bandcamp.
Aaron Dilloway & Lucrecia Dalt, Lucy & Aaron (Hanson): There are sections of Lucy & Aaron that sound like an R&B rave-up slurped from another dimension. That between-worlds instability is Aaron Dilloway's specialty — a dream distorted, forgotten, then déjà vu'd on a locked groove — but could very well be Colombian experimentalist Lucrecia Dalt's doing. Their debut collaboration, a noise fantasy-league team-up if there ever was one, blends and blurs their respective approaches to outré sound, but also plays with pop, as Dalt moans playground melodies atop eerie synths and unspooled blips over an incessant clip-clop; it's pop music as a slowly creeping terror that seeps into the crevices of consciousness.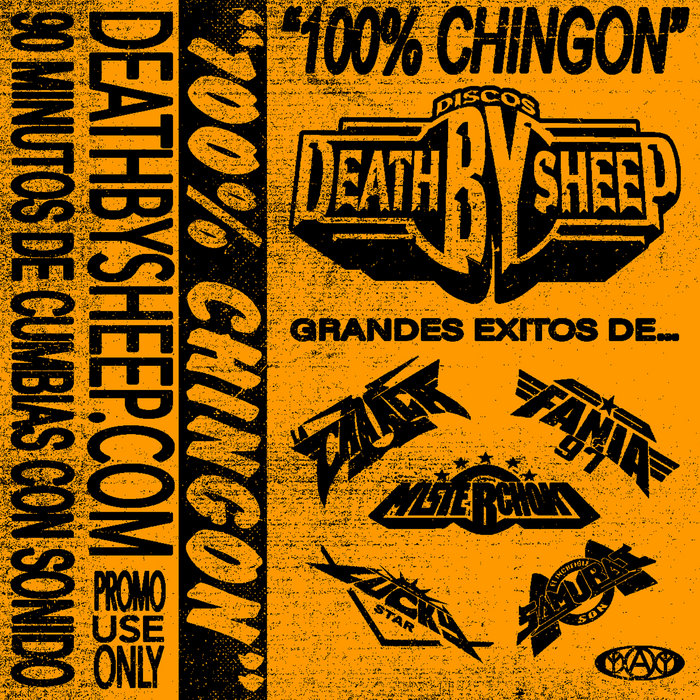 "100% CHINGON" | DEATHBYSHEEP | DEATHBYSHEEP RECORDS
4 track album
v/a, 100% CHINGON (Death by Sheep): If you've ever hit up a block party, club, restaurant or, hell, a supermarket opening in the Mexican part of town, you have hopefully witnessed the noisy spectacle of DJs yelling en español over cumbia beats on a blown-out P.A. system. It's like toasting in Jamaican dub, but rumbles with a frenetic, nearly psychedelic party atmosphere. 100% CHINGON collects four different sonideros — including a killer collab between Misterchoki and Fania 97, which leads off the tape — and has been my summer soundtrack when the sweat sticks to my back and only cumbia (and a Modelo Chelada from the corner store) will suffice.
Canary Room, Christine (Bud Tapes): Maddy Heide's voice doesn't so much lilt, but slips into crevices meant for passed notes and pressed flowers. Her finger-picked songs make you lean in — they are quiet, sure, but mostly her couplets bend rhymes in odd places, requiring just a slight (and gentle) rewiring of your brain.
William Parker, Mayan Space Station (AUM Fidelity): Never thought I'd see the day that William Parker led a Santana shreddin', Sharrock skronkin' psych-rock power trio! But if the Migration of Silence box set taught us anything, Parker can truly write whatever the hell he writes. To be fair, Ava Mendoza isn't so much shreddy as she is a sidewinder of a guitarist — her prismatic playing comes at Parker's bass grooves and bowed cosmos with a curious, but thunderous energy. Gerald Cleaver is the ancient alien spaceship that drives the whole affair, his drumming a fire under their extraterrestrial asses.
Madam Data, The Gospel of the Devourer (PTP): Does noise finally have its own space opera? Madam Data's new tape — featuring Moor Mother, Mental Jewelry, King Vision Ultra — is a slow camera pan across desolate spacescapes, rendered in blackened noise, gothic doom-drone, blast-beaten synth garble and drippy dark ambient. The song titles read like an epic space battle filled with floating corpses and ultraviolet blood-splatter, but also liberation… of body, soul, death.
Рожь, Вечное (Reflection Nebula): Russian doom and gloom is my bread and butter. This is bleak, blackened doom dense with despair — the kind of metal that leaves you sobbing into your pillow, with fist clenched in the air. But the difference between this and a lot of sad-bastard doom is that Рожь (that's Russian for "rye") works a fathoms-deep atmosphere into every desperate riff, delicately sung chant and hoary howl. Songs build and bloom with equal strength, as life springs from rotting remains.
The Playlist: Viking's Sympathy
33 tracks. Opens with a burner from William Parker's psych-rock power trio. A next-level bonkers collab from Japanese WTF rock band SMTK and Japanese WTF hip-hop trio Dos Manos. Milan producer STILL set up shop with Uganda's experimental/electronic scene and the first track (with Ecko Bazz) has got my blood pressure in a tizzy. Turnt-up hardcore band Turnstile turns down with Blood Orange. Phew floats on a cloud of static. Feminazgul's witchy black metal. Shannon Lay's got a real purty voice. Iron Maiden twang. Howlin Rain's epic goes from psychedelic choogle to cosmic funk to piano ballad to glam queen in 16 minutes. Shintaro Sakamoto is very silly. Andrew W.K. says everybody sins, chugga chugga. After a very bad NIN rip-off record, the new Underoath single goes pretty hard! I feel like Caroline Polachek's "Bunny is a Rider" is an interpolation of something. Pet Sympathy's power-pop lounge wear. Wuhan's 如梦 ("Like a Dream" in Chinese) is like a punker New Order. I freaking love Amygdala's drummer. The hot New Age single from clarinetist Jeremiah Cymerman! Seth Graham and more eaze's obnoxiously non-named sad-ambient duo. Karen Peris is one of my favorite singers ever. Low + backwards guitar. Nate Mercereau's twilight spiritual jazz. Mouth Painter is the love child of Low and Beachwood Sparks. Throwbacks to Danielson Famile, The Appleseed Cast, a new-to-me cover of "Leigh and Me" (by Starflyer 59's Jason Martin and Sixpence None the Richer's Leigh Nash) by Honeychild Coleman.
Stream the official Viking's Choice playlist via Spotify, Apple Music or ¡STILL NEW! BNDCMPR (third-party playlist platform for music found on Bandcamp). Here's the permalink for this week's mix and the archives.